Red Bull King of the Air 2014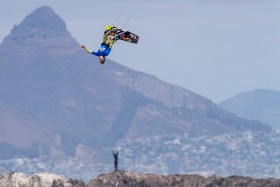 Red Bull King of the Air 2014 – in Cape Town Once Again
Background
Held in 1999, the first Red Bull King of the Air event was a huge stepping stone for kitesurfing, a sport that was then still in its infancy. As the sport gained worldwide popularity, the event became a platform for some of the most talented riders in the world to showcase their skills.
After an 8-year hiatus, Red Bull King of the Air made its return in a brand new location: Cape Town, South Africa.
Cape Town – the Mecca of Kiting
Cape Town is the Mecca of kiteboarding and was the perfect location for the return of this massive competition due to our sick waves, wind and location.
Red Bull King of the Air 2013 
The 2013 event was won by the young Hawaiian Jesse Richman in front of over 5000 spectators (the largest crowd garnered by the event since its inception).
Check out some of the awesome moments from Red Bull King of the Air 2013.

Red Bull King of the Air 2014
In 2014 the Red Bull King of the Air will return to Cape Town, and promises to be bigger and better than ever before.
The 12 top riders representing 7 different countries will return in 2014 to compete for the title of Red Bull King of the Air. During the event some of the best kiteboarders in the world will attempt their most extreme tricks to be crowned King of the Air in the biggest big air kite event in the world.
The kiters who are confirmed for the event are:
 Are you a King of the Air?
This challenge is not for the average kiter, but if you think you have what it takes there are 12 wildcard entries available. [sign up link] You can sign up here.
With the ever growing popularity of Kitesurfing all over the world, the 2014 Red Bull King of the Air is poised to be one of the Extreme Sporting highlights of the year.
When
The event will take place between the 25th of January and the 8th of February, with a 2-day heads up.
There will also be an opening event on the 24th of January at Eden on the Bay featuring live music and a chance to meet the pros.
Where
Once again Eden on the Bay, Big Bay, Cape Town has been chosen for this prestigious event. It's the best spot for pro kiters, spectators, wind, waves and access to cold beer, kite gear and great food.
Stay in the Loop
To keep up to date with all the latest news follow @CTwatersports and @Redbullza on Twitter, and make sure to keep track of #RedBullKingoftheAir.